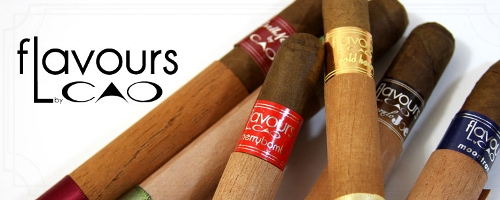 C.A.O. Flavors Cigars
CAO Flavours is a line of flavored cigars that used premium tobacco and flavors to produce a great aromatic cigar.
CAO Flavours Solfyre is the newest of the line, a spicy-sweet line. As the taste of cinnamon has taken the booze business by storm the CAO team centered the blend around Dominican tobacco, applied a Cameroon wrapper and infused spicy notes of cinnamon, with the smoky essence of whisky.
CAO Flavours Bella Vanilla uses vanilla beans from Madagascar, and these superior beans are imbued into a blend of rich Cuban seed tobaccos..
?CAO Flavous Cherrybomb smells and taste line cherry and black currant.
CAO Flavours Eileen's Dream features a Cameroon wrapper and mild Dominican filler that have been infused with Irish whiskey, coconut milk, hazelnut, white chocolate, almonds, cocoa, and vanilla bean.
CAO Flavours Gold Honey is made with orange blossom honey. The sweetness is unmistakeable.
CAO Flavours Moontrance features exotic fruit and bourbon vanilla extracts, infused with a cameroon wrapper and premium tobaccos.