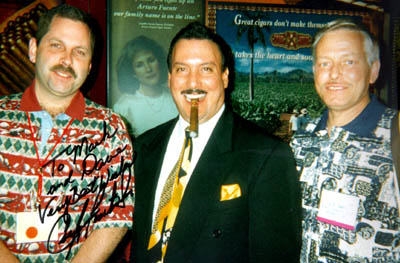 BigHumidor.com (also known as Cigars-for-Less.com)has been in business for over 27 years. After 23 years in Rehoboth, DE we have moved our operation effective March 2016 to a 4000 square ft state of the art all humidified building in Bridgeville, DE.
Due to our buying power and volume, we are able to compete with anyone selling cigars. Our service, selection and prices are as good as it gets. Try us and let us show you how easy, safe and painless it is to order with us from your home or office online.
If you haven't ordered before and want to get on our e-mail specials every 7days, simply e-mail our subscription address at:
subscribers@cigars-for-less.com
and put subscribe in the subject line and we will get you on the list.
We our located the small state of Delaware, a great place to live! We prefer that you order online since those orders can be processed faster and thus go out first. Our ordering system is secure and fast. If you do not feel confident giving your credit card over the net (I order everything over the net and do not worry since all the credit cards have more than adequate protections), you can call us at (800)464-5377 to order. We do not publish a catalog at present due to the cost, we want to offer the best price we can and do not advertise what we do not have. When you order you are automatically placed on our e-mail list for our monthly specials. We do not believe in advertising cigars that are not in stock, thus when you order a cigar, 99% of the time it is in stock!
Our physical address is:
Bighumidor Cigar
18473 Sussex Highway
Bridgeville, DE 19933
Due to our steadily increasing volume we encourage you to order on-line and to correspond by e-mail. Ordering on-line is a safe and efficient way to order. With tens of thousands of orders, our customers have not had any security problems with giving their credit card numbers over our secured link. We do not store credit card information. With our secure system and the credit card companies safeguards, ordering on-line is safer than giving your card to a waiter in a restaurant or a gas station attendent (since they can copy your numbers and use your account). If you need to talk to us or just can't bring yourself to feel secure about ordering on-line (it is safe and fast), call us at (800)464-5377 You will usually talk to the owners Mark or Dave or Kathy and Will in our Shipping Department.
NOT RESPONSIBLE FOR TYPOGRAPHICAL ERRORS. WE RESERVE THE RIGHT TO LIMIT ORDERS!!!