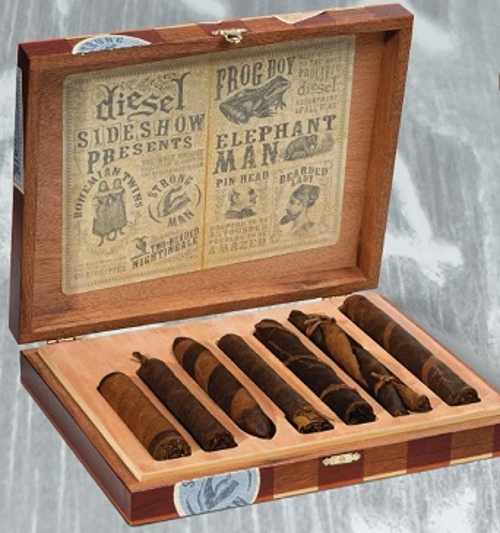 Diesel Limited Edition Sideshow
The Diesel Sideshow Sampler is a treasure trove of the original Diesel Unlimited blend in freak sizes sure to perk up the ears of every carnie nationwide. The Diesel you know
and love, magically transformed into strange vitolas for your amusement. This sampler has them all from the culebra-style Bohemian Twins to the shaggy footed Bearded Lady. Unlike some magic tricks, these cigars are the real deal. Each blend, in addition to showing off the cigar roller's incredible skill, contains a perfectly burnable, delicious cigar with the classic bold, rich Diesel flavor. Grab your ticket to the Diesel Sideshow Sampler today, a freak show that's well worth the price of admission.
Diesel Sideshow

Box of 7 Cigars [ Ring Size: Various Length: Various ]

$89.95