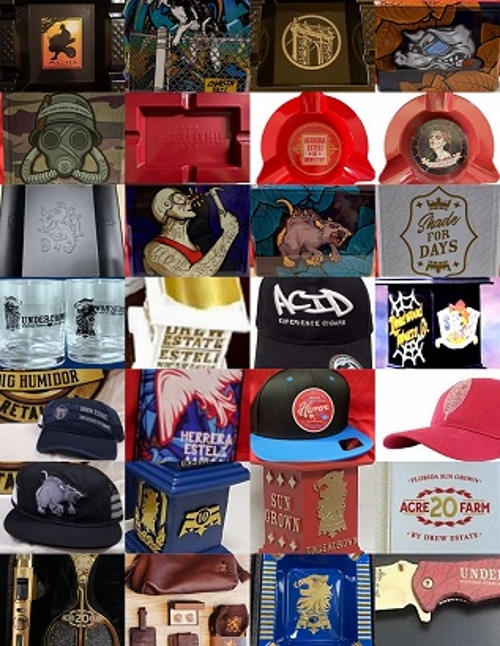 Drew Estate Pick Your Swag
We have gone through over 20 years of selling Drew Estate and found some rare DE Swag and we want to put this in the hands of Drew Estate fans....so we are running a Drew Estate Pick Your Swag Sale!!!
Depending on what Drew Estate you purchase, you get to pick your swag. Each box on Special has the picks you get and when the item is out of stock, it is gone.
NOTE: Orders will be filled with swag you pick as long as the item qualifies for the swag!!!!
If your box purchase qualifies for 1 Group A, 1 Group B and 1 Group C....you can only pick one from each group!!!
Group A Acid Black Ashtray.........with Qualifying Purchase Only!

Acid Melamine Astray...rare

$0.00

Group A Chasing Tail Toolbox..........with Qualifying Purchase Only!

Drew Estate Chasing Tail Toolbox with Ashtray, Cigar Stand and 3 Finger Metal Cigar Case

$0.00

Group A Drew Estate Black Melamine Ashtray.........with Qualifying Purchase Only!

Drew Estate Melamine Astray...rare

$0.00

Group A Flying Pig Toolbox..........with Qualifying Purchase Only!

Drew Estate Year of the Pig Toolbox with Ashtray, Cigar Stand and 3 Finger Metal Cigar Case

$0.00

Group A Gas Mask Toolbox..........with Qualifying Purchase Only!

Drew Estate Gas Mask Toolbox with Ashtray, Cigar Stand and 3 Finger Metal Cigar Case

$0.00

Group A Herrera Esteli Red Rectangle Ashtray.........with Qualifying Purchase Only!

Herrera Esteli Red Melamine Astray...rare

$0.00

Group A Herrera Esteli Red Triangle Ashtray.........with Qualifying Purchase Only!

Herrera Esteli Red Triangle Ashtray

$0.00

Group A Leather Rose Triangle Ashtray.........with Qualifying Purchase Only!

Leather Rose Triangle Ashtray

$0.00

Group A Liga No. 9 Black Ashtray.........with Qualifying Purchase Only!

Liga No. 9 Black Melamine Astray...rare

$0.00

Group A Nail Head Toolbox..........with Qualifying Purchase Only!

Drew Estate Nail Head Toolbox with Ashtray, Cigar Stand and 3 Finger Metal Cigar Case

$0.00

Group A Ratzilla Toolbox..........with Qualifying Purchase Only!

Drew Estate Ratzilla Toolbox with Ashtray, Cigar Stand and 3 Finger Metal Cigar Case

$0.00

Group A Shade for Days Toolbox..........with Qualifying Purchase Only!

Drew Estate Shade For Days Toolbox Hat, Bag, USB Backup and Extras

$0.00

Group A Undercrown Rocks Glasses (2).........with Qualifying Purchase Only!

Pair of Undercrown Rocks Glasses

$0.00

Group B 20 Acre Farm Cigar Rest..........with Qualifying Purchase Only!

20 Acre Farm Cigar Rest

$0.00

Group B Acid 20th Hat..........with Qualifying Purchase Only!

Acid 20th Hat

$0.00

Group B Deadwood Cigar Rest..........with Qualifying Purchase Only!

Deadwood Cigar Rest

$0.00

Group B Drew Estate Blue Rebirth Hat..........with Qualifying Purchase Only!

Drew Estate Rebirth Hat

$0.00

Group B Herrera Esteli 3 Finger Cigar Case.........with Qualifying Purchase Only!

Herrera Esteli 3 Finger Cigar Case

$0.00

Group B Herrera Esteli Hat.........with Qualifying Purchase Only!

Herrera Esteli Hat

$0.00

Group B Joya de Nicaragua Red Leaf Hat..........with Qualifying Purchase Only!

Joya de Nicaragua Red Leaf Hat

$0.00

Group B Ratzilla Hat..........with Qualifying Purchase Only!

Drew Estate Ratzilla Hat

$0.00

Group B UC10 Cigar Rest..........with Qualifying Purchase Only!

UC10 Cigar Rest

$0.00

Group B Undercrown Sun Grown Cigar Rest..........with Qualifying Purchase Only!

Undercrown Sun Grown Cigar Rest

$0.00

Group C Acid 20 Robusto 2 Pack of Cigars..........with Qualifying Purchase Only!

Pack of 2 Cigars [ Ring Size: 52 Length: 5 ]

$0.00

Group C Acid Plush 2 Pack of Cigars..........with Qualifying Purchase Only!

Pack of 2 cigars [Ring Size : 50 Length : 5 1/4]

$0.00

Group C Deadwood Fat Bottom Toro 2 Pack of Cigars..........with Qualifying Purchase Only!

Pack of 2 Cigars [ Ring Size: 50 Length: 6 ]

$0.00

Group C Deadwood Sweet Jane 2 Pack of Cigars..........with Qualifying Purchase Only!

Pack of 2 Cigars [ Ring Size: 46 Length: 5 ]

$0.00

Group C Herrera Esteli Brazilian Maduro Toro 2 Pack of Cigars..........with Qualifying Purchase Only!

Pack of 2 Cigars [Ring Size: 52 Length: 6 ] from Nicaragua

$0.00

Group C Liga Undercrown Maduro Gran Toro 2 Pack of Cigars..........with Qualifying Purchase Only!

Pack of 2 Cigars [ Ring Size: 52 Length: 6 ] from Nicaragua

$0.00

Group C Liga Undercrown Shade Gran Toro 2 Pack of Cigars..........with Qualifying Purchase Only!

Pack of 2 Cigars [ Ring Size: 52 Length: 6 ] from Nicaragua

$0.00

Group C Liga Undercrown Sun Grown Gran Toro 2 Pack of Cigars..........with Qualifying Purchase Only!

Pack of 2 Cigars [ Ring Size: 52 Length: 6 ] from Nicaragua

$0.00

Group C Tabak Especiale Dulce Toro 2 Pack of Cigars..........with Qualifying Purchase Only!

Pack of 2 Cigars [ Ring Size: 52 Length: 6 ]

$0.00

Group D 20 Acre Farm Leather Case.....with Qualifying Purchase of Only!!

20 Acre Farm Leather Case

$0.00

Group D 20 Acre Farm Scissor Cutter and Torch Set.....with Qualifying Purchase of Only!!

20 Acre Farm Scissor Cutter and Torch Set

$0.00

Group D Liga T52 Toiletry Kit.....with Qualifying Purchase of Only!!

Liga T52 Toiletry Kit with Cufflinks, Socks, Wallet, Luggage Tag and Toiletry bag

$0.00

Group D Undercrown 10 Ceramic Ashtray.....with Qualifying Purchase of Only!!

Undercrown 10 Ceramic Ashtray

$0.00

Group D Undercrown Sun Grown Knife.....with Qualifying Purchase of Only!!

Undercrown Sun Grown Knife

$0.00