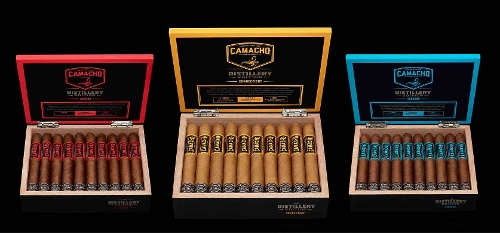 Camacho Distillery Edition Collection Cigars
Camacho Distillery Edition owes its origin to the Camacho Nicaraguan Barrel Aged and the American Barrel Aged lines of cigars. Camacho Distillery Edition comes in three varieties including the Camacho Distillery Corojo, Camacho Distillery Connecticut, and Camacho Distillery Ecuador. The original three blends have been tweaked to utilize an Original Corojo leaf that has been aged in charred bourbon barrels for a minimum of six months and that leaf is then incorporated in different ways into the three blends. There is one size in each of the three blends, a 6 by 50 Toro.

Camacho Connecticut Distillery Edition features Ecuadorian Connecticut wrapper over an Original Corojo binder. The filler continues to use Aleman Ligero, but it is the Original Generoso leaf that was barrel aged.

Camacho Corojo Distillery Edition features a Honduran Original Corojo Ligero wrapper, 6-month Barrel-Aged Authentic Corojo & Fifth Priming Original Corojo binder and 6-month Barrel-Aged Original Corojo Generoso & Aleman Ligero (Honduran and Dominican) filler tobaccos.

Camacho Ecuador Distillery Edition features an Habano Ecuador wrapper, Brazilian Mata Fina binder and a blend of 6-month Barrel-Aged Original Corojo, Criollo Ligero, Pelo De Oro (Honduran and Nicaraguan)filler tobaccos.