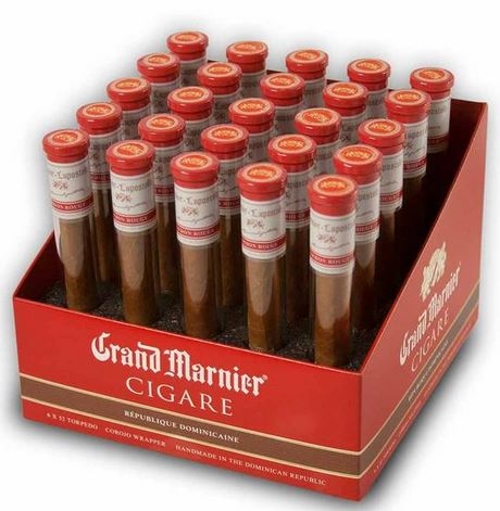 Grand Marnier Cigars
Grand Marnier Cigars are a premium cigar that is seasoned with Grand Marnier Cordon Rouge. Grand Marnier Cigars feature an aged Corojo wrapper, a Ecuadorian Sumatra binder and a blend of long filler tobaccos from the Dominican Republic. Grand Marnier has been an icon of authentic French "Joie de Vivre" for over 150 years. Still owned by the Marnier Lapostolle family, the acclaimed liqueur possesses a luxurious taste and uses the same secret recipe.
Since Grand Marnier cigars are sent in sealed glass tubes, no humidification is required.
Grand Marnier cigars have captured that same luxurious taste in these premium, handmade, Dominican Republic, Grand Marnier cigars.
Grand Marnier Cordon Rouge, a vibrant blend of Cognac and Orange liqueur. This cigar is an experience worthy of the legend of Grand Marnier and the perfect complement to an evening cocktail.