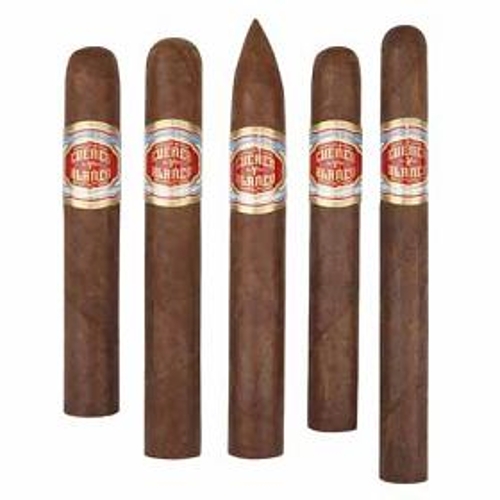 Cuenca y Blanco Cigars (CYB) by Joya de Nicaragua
Cuenca y Blanco Cigars by Joya de Nicaragua was a new release for Joya de Nicaragua September 2012. Cuenca y Blanco is a collaboration between the President of Joya de Nicaragua, Dr. Alejandro Martinez Cuenca and the Senior VP,Sr. Jose Blanco (who spent three decades at La Aurora).
Cuenca y Blanco is medium bodied and is a radical departure from Joya de Nicaragua's use of all Nicaraguan tobacco. Cuenca y Blanco use a blend of aged air-cured black tobaccos
from four countries including
Habano Seed leaf from Nicaragua's Esteli Valley and the volcanic isle of
Ometepe, Piloto Cubano from the La Canela region of the Dominican Republic and an aromatic viso from Peru's famed Tarapoto region. The cigar is expertly finished in a
beautiful Grade 1 Ecuador Habano wrapper. This complex blend is the fruit of nearly a year of ceaseless experimentation and has resulted in a very flavorful smoke with a tantalizing
aroma.
According to Sr. Blanco, Joya de Nicaragua's Senior Vice President, "It is very exciting for me to make blends at a different factory and grow accustomed to a new environment and
their traditions. As many know, I have always been deeply fond of Nicaraguan tobaccos, but I am also very pleased to bring more origins, including my own Dominican heritage, to Joya De Nicaragua." Jose adds, "The Cuenca y Blanco is a symphony of well balanced tobaccos creating a rich and complex smoke, with lots of flavor which I always find so
important and with a type of strength satisfying for most smokers."
Cuenca y Blanca have been discontinued by the manufacturer.
There are no Products in this category.